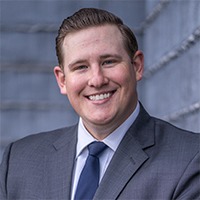 I have worked with individuals, families, and business owners across many industries; each with their own unique challenges. Nothing makes me happier than pulling from my experience to help another person. Whether that's identifying a gap in coverage, finding ways to save money, or simply being a rock during turbulent times!
Over the last 8 years, I have been fortunate to work for the largest companies, as well as independent firms. I have seen how each organization prioritizes client relationships, a seamless process, and community involvement.
I joined Silver Key Benefits because I saw a company whose mission and leadership aligned with my own. We take great pride in helping others and it's my goal to make the world of insurance and finance easy to understand, and even easier to implement.
My professional advice focuses on appreciating the present, while planning and preparing for your future needs. These may include protecting yourself and your family with various tools such as life, disability, and health insurance, including Medicare.
In December of 2017, my wife and I moved to Utah. We were married here shortly after at Louland Falls and just bought our first home in Herriman, UT. We enjoy golfing, tailgating, and being around our friends and family.
I try to grow everyday as an advisor, a leader, a husband, and a friend. As an independent advisor, I answer only to one entity – my clients!